The home of Lion Brian is open to the public, 1st January until 14th January 2017, with an exhibition showing the work of Bedworth Lions Club, & also special event radio station GB4BLC. (GB 4 Bedworth Lions Club)

GB4 BLC will be transmitting FM on the 2 metre band. SSB will be used mainly on the 80 to 20 metre bands, talking to very many parts of the world, the official openings in 2006 & 2007 saw contacts with Australia.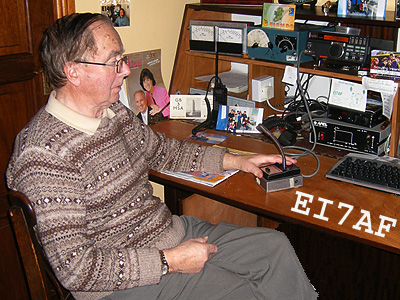 During the 2009 mayoral opening of Bedworth lions Awareness Month, the Mayor exchanged greetings with Robert EI7AF, who is a member of Clonmel Lions Club in Southern Ireland, and also Alan G7CDK who was the recording engineer on Tony Hancock's, The Radio Ham & Blood Donor records.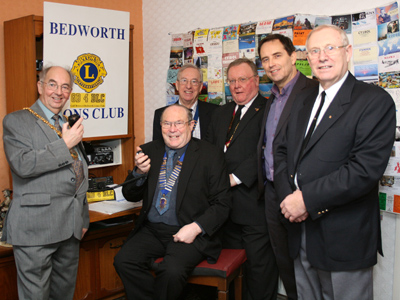 EI7AF Robert in Clonmel pictured above. - Pictured right - Attendees Mayor Cllr Gerald Smith, Lion President Brian G8GMU, President of Coventry Amateur Radio Society Peter Yardley G0INS, Lion District Governor Andy Pemberton, Radio 4's Jim Lee G4AEH, Lion Charter Member Steve Allen. (attendees photograph by Martin Salzman G1ZSR)
Something special happened for the Mayoral opening in 2008. Uniquely we had a scheduled contact with the Mayor of Cambridge, who was the only licensed radio amateur to also be Mayor, her callsign G0VQH. This contact took place on the 80 metre band on 3.770 MHz, this is probably a first for the UK.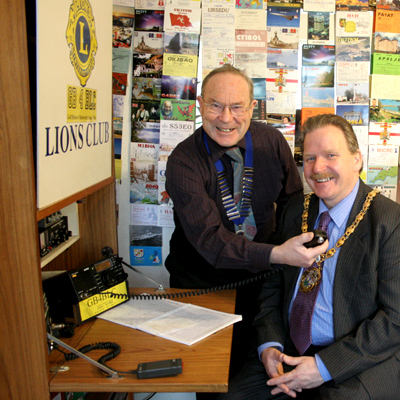 Cllr Bill Sheppard & Lion President Brian in contact with the Mayor of Cambridge G0VQH during the opening ceremony.





Whilst this is public event, strictly NO unaccompanied children (under 16 Years.) will be allowed entry.

Members of the public will be able to see the radio station in operation, making shortwave radio contacts with locations around the world.
Visitors will also have the opportunity to sit and exchange greetings messages with other amateur radio stations around the UK, and with overseas countries including Gibraltar, Malta, Canada and the USA. (Subject to propagation conditions).

There should be other promotional events in Bedworth Town centre, including a static display in Bedworth main library from the late December, leaflet drops & maximum media coverage of this event.
OFCOM have kindly issued a Notice of Variation for GB4BLC to be used.
Page last Changed